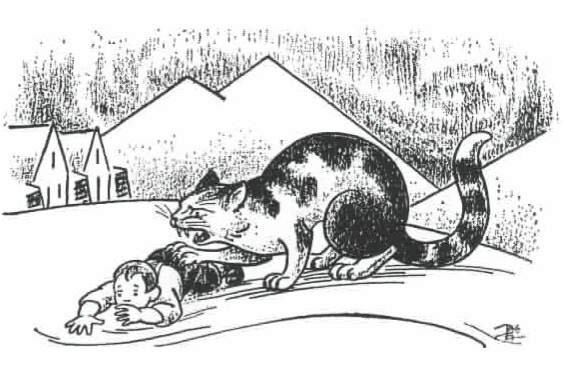 Iceland's Yule Cat on the Prowl
(Google Public Domain Image)
The energy level in our home has shifted, as our young adults return home and bring new perspectives to life. There has already been much joy and laughter in the household, along with some sorrow and a few tears, as friendships and life choices change and goals diverge.
Ms. DD arrived safely in the wee hours of the morning, bearing birthday and Yule gifts from her trip to Iceland. Among them were balls of Icelandic wool yarn and knitting tools for me and a book about traditional Icelandic Christmas trolls. They include an ogress named Gryla, with a taste for dining on naughty, lazy or rude children. One of Gryla's sons, Stekkjarstaur, "The Sheep Worrier," is known for sneaking into sheep pens and attempting to suckle from the ewes. (He fails because he's too stiff to bend. Perhaps yoga would help?) Stekkjarstaur is kinder than his mother and leaves a small toy, a piece of fruit or some sweets in a child's shoe. If the child is naughty, she/he gets a potato. Icelandic children are also familiar with the Yule Cat, " a grossly overgrown housecat turned feral...cold, mean and ravenous." Yule Cat delights in eating children, "choosing those who haven't recently been given something new to wear!" (
The Yule Lads
, Brian Pilkington) I'm told that people knit up a storm there and that, even today, all good parents make sure that every child receives a pair of socks or gloves, preferably hand knit and, once upon a time, hand spun, to ward off Yule Cat as he comes prowling.
Tonight will include visits with family and friends, our traditional Christmas Eve feast of nachos, as we watch
A Christmas Carol
(in black and white, with Alastair Sim, of course) and later, a visit from Santa, who will always believe in you as long as you believe in him. There will be five of us at Christmas dinner, although we will feel the presence of all those who have gone before us. Mr. DD will cook and I will make the cranberry pudding. We will talk until late, packing in as much time together as we can, before Ms. DD flies back home on Boxing Day. There is never enough time. All is as it should be.
Namaste.